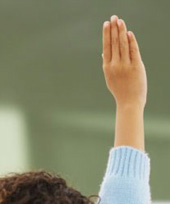 Raise your hand if you have ever used the phrases, "When I get my life together, I will ___," or "When I get all my ducks in a row, I will ____."
Somewhere along the way we have bought into the pattern of thinking that we have to have life all together before we believe we have anything to offer.
I think we have missed the point of offering altogether.
I have discovered that there are three lies we believe in when it comes to helping others.
Lie #1 – You have to be perfect.
All throughout the bible, God chose the lame, weak, lowest, foolish, uneducated, outcasts, and the rejected to make himself known. The people God chose to use were far from perfect. They were also in the midst of their imperfections when he used them.
I love that Jesus used a
Samaritan woman
, rejected by her friends and family, to bring a whole town to himself. Jesus did not tell her to wait until she was changed to use her. As soon as their conversation ended, she went out and told the whole town about Jesus.
Lie #2 – Ministry flows from our strengths.
The people who have influenced my life the most are those who have experienced brokenness. What has been most impactful for me are those who offer out of their brokenness. Authentic pain and wounds are powerful to any heart when they are shared.
Lie #3 – You can only help to the extent you've been helped.
Henri Nouwen is famous for coining the term "wounded healer." A wounded healer is one who offers out of their current struggles. A wounded healer is someone who offers in spite of their struggles. The deception of pain is that we can only offer those parts of our path that we have already walked through.
The truth is that everyone is on a journey. Authenticity is inviting. Being real, and even a mess, in the midst of your pain provides freedom for someone else to do the same. Honestly, the thoughts you have today regarding your pain are going to shine light on the path for someone else.
Some of my favorite conversations have started with, "this is where I am." I can't tell you how many times my heart has been changed by the authentic risk of someone else.
Authenticity has brought new meaning to the words,
"
by his wounds we are healed
."
There is such power in sharing our wounds.
Wounds heal.
We are always influencing, especially through our times of brokenness. The mess of your heart just might be the perfect light that someone else needs for theirs.
Are you willing to be a Wounded Healer?
Tracee Persiko is a speaker and writer with a master's in Professional Counseling. She cares deeply about the heart and story of other people. When it comes to areas of passion, Tracee enjoys speaking on topics including: leadership development, cultivating character, second mile living, identity in Christ, and carrying the weight of your influence well. Her heart is all about empowering others to believe different and live different.